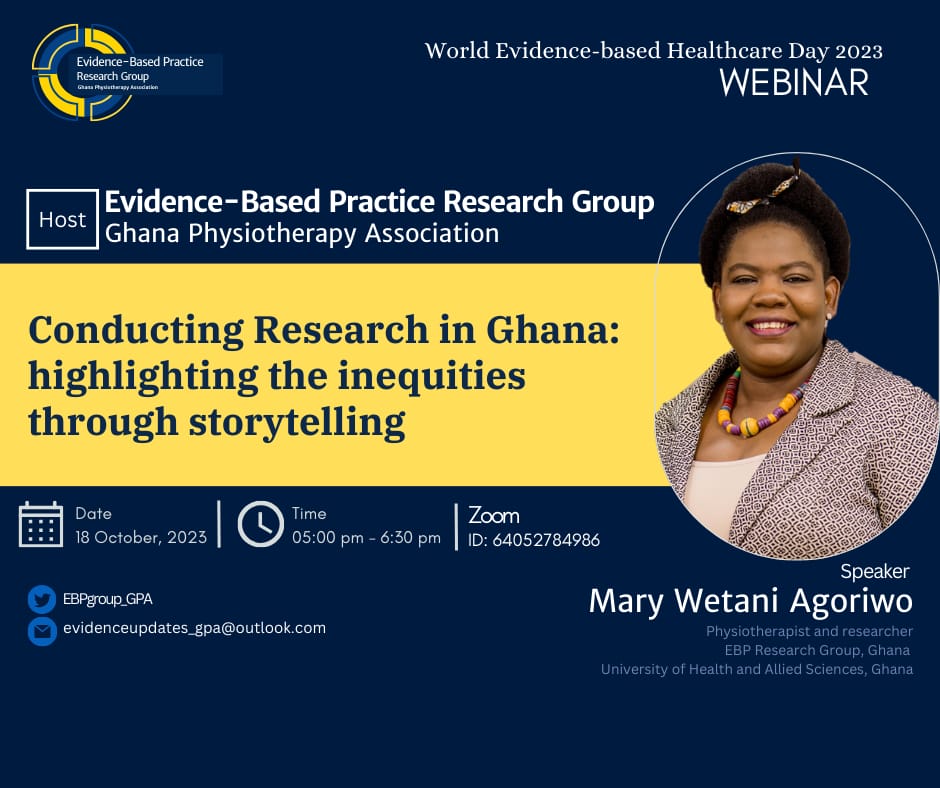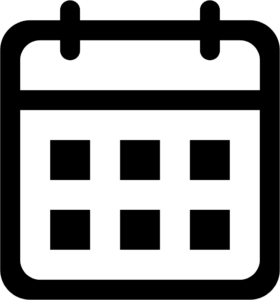 18th October 2023, I 5:00 – 6:30 pm GMT

Online: Join Zoom Meeting here
————————————————————————————————————————————
Brief Summary
Research informs Evidence-Based Practice (EBP). In the conduct of research, researchers face several challenges globally but even more in lower-middle-income countries such as Ghana with limited resources and other competing factors.  This year's World Evidence-based Healthcare Day 2023 campaign is focused on "Evidence and Global Health Equity" and aims to examine how the global evidence community can foster and embed equity within and across evidence ecosystems to advance global health equity.
As part of our advocacy arm, the EBP Research Group of the Ghana Physiotherapy Association joins other stakeholders in this year's campaign by hosting a webinar themed; "Conducting Research in Ghana: highlighting the iniquities through Storytelling". This webinar will discuss the challenges facing Ghanaian researchers and clinicians in conducting and publishing research, as well as recommendations to address these challenges through storytelling.
Objectives
This webinar will:
highlight the barriers and challenges in conducting research within the Ghanaian physiotherapy context

facilitate a better understanding of the research landscape by explaining ways to facilitate smooth (challenge-free) research conduct in Ghana

Advance the knowledge of Ghanaian physiotherapists on some recommended ways to address these challenges and encourage the conduct of research in Ghana
Mode of delivery
A 90-minute online webinar hosted on ZOOM.
Speaker – Mary Wetani Agoriwo (Physiotherapist and researcher)
Parkinson's disease Research Lead – EBP Research Group, Ghana
Assistant Lecturer – University of Health and Allied Health Sciences, Ghana
PhD student – Stellenbosch University, South Africa
Learning objectives
Upon attending this webinar, participants will:
be conversant with the challenges in conducting and publishing research in Ghana.

learn ways of circumventing these challenges in achieving their goals in research conduct.

be equipped with the knowledge needed to emerge as new-generation Ghanaian researchers despite challenges within the Ghanaian context.

Introduced to an emerging new way of disseminating research, which is storytelling.
Participation is free.
Join us to learn and advance your knowledge on the subject.
For any enquiries, please contact the team at evidenceupdates_gpa@outlook.com
Follow us on X: @EBPgroup_GPA
Signed
Dr Beatrice E.A. Sankah
Lead – EBP Research Group, GPA
X: @Bea_Sankah