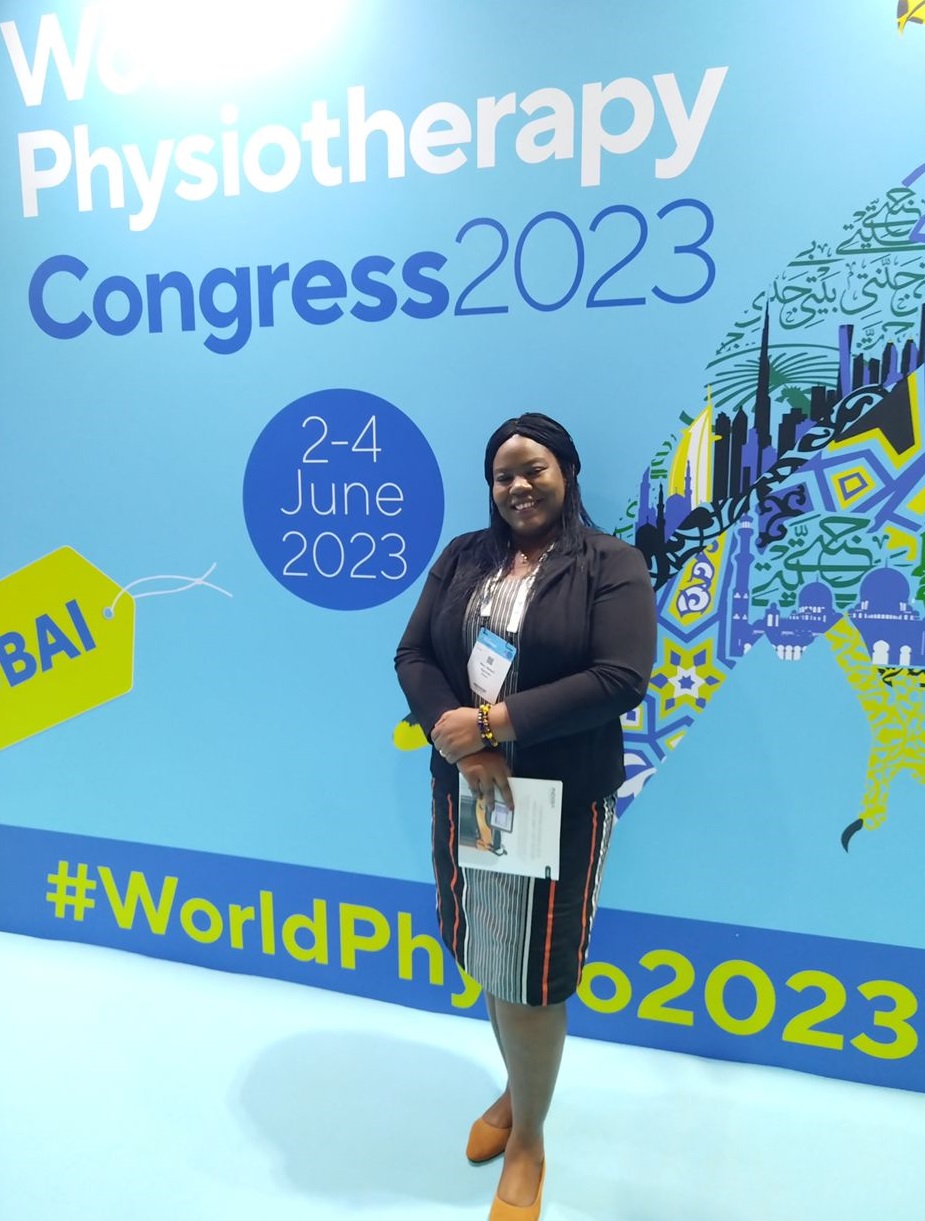 Mary Wetani Agoriwo was awarded with the Outstanding Platform Presentation Award (runner-up) from the Africa Region under the Regional Platform Awards Category at the World Physiotherapy Congress 2023 in Dubai, held on 2-4 June.
She presented on the topic: 'Compliance and barriers to physiotherapy among persons with Parkinson's disease at the Korle Bu Teaching Hospital: Explanatory Mixed-method study'.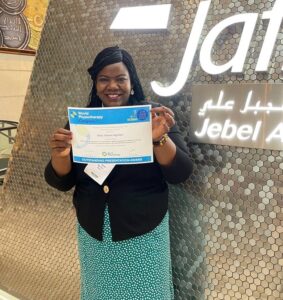 The study sought to assess the compliance rate and barriers to adherence for physiotherapy among persons with Parkinson's disease (PD) who received treatment at the physiotherapy PD clinic of the Korle Bu Teaching Hospital (KBTH) from 2013-2021. It was concluded that the majority of persons with PD were not compliant with physiotherapy treatment and system level barriers such as transportation issues, treatment cost, waiting time, among others accounted for the non-compliance.
Mary is a Physiotherapist and assistant lecturer with the University of Health and Allied Sciences (UHAS), Ho, Ghana. She is currently pursuing her PhD at the Stellenbosch University in Cape Town, South Africa, under the supervision of Professors Marianne Unger, Conran Joseph and Erika Franzen. Her research is focused on assessing the rehabilitation needs of persons with PD in the Ghana, with the expectation of strengthening the accessibility and delivery of rehabilitation services for the PD population.
This award adds to Mary's achievements, puts Ghana Physiotherapy on the global map and highlights the capabilities of Ghanaian physiotherapists by re-echoing that – "Yes, we can do it" when we dream big and work hard.
Although, Mary has received previous awards as a Chevening Scholar (2016), Organization for Women in Science for the Developing World (OWSD) Fellow (2021) and Mawazo Fellow (2023), she feels extremely excited about this award as it spotlights her research abilities and sees it as an opportunity for future research collaborations.
Mary expressed her appreciation by thanking God for the favor; the co-authors: Pascal Godwin Adorvlo, Peter Oppong Junior, Ellen Mensa-Bonsu, Martin Ackah, and Benedicta Atsivor for their inputs; faculty of the Department of Physiotherapy and Rehabilitation Sciences, UHAS, for the support; OWSD for the travel grant; and Dr. Beatrice Sankah (PhD) for the guidance in preparing and delivering the presentation. She also appreciates the management and staff of the KBTH and Physiotherapy department, especially, Mrs. Sandra Asante (Head of Department) and Mr. John Dogbe (Records Manager) for the assistance; Mrs. Sheila Klufio Nai for pioneering the establishment of the PD-Clinic at the physiotherapy department; all persons with PD who accessed the PD-Clinic particularly, the study participants; and my family and friends"
The Ghana Physiotherapy Association (GPA) congratulates Mary and her team for this outstanding performance and award.